MyGreatFest
From The iPhone Wiki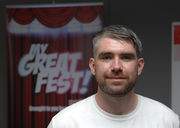 MyGreatFest
is a convention centered around the iCommunity and jailbreaks.
After the event, it got renamed to JailbreakCon, so this first convention will remain the only one with this name.
Events
17 September 2011
This event was held at The Old Truman Brewery in London.
Speakers
Aaron Ash
Carsten Heinelt, developer of iFile
James Whelton
p0sixninja and OPK
Mission Statement
Our mission is to become the largest jailbreak/(i)community convention for coders, themers, hackers, developers or any other mobile device user. To leave others with the better understanding of what jailbreaking actually means to us, and that it does not stand for piracy. We aim to build upon a community that we believe to be the best there is. So please, tell the world our mission. MyGreatFest, for the community, by the community.
External Links
Videos
Slides