n41ap
From The iPhone Wiki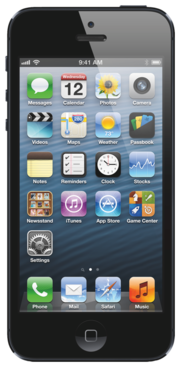 This is the A1428 model of the iPhone 5, introduced by Tim Cook at an Apple Special Event on September 12, 2012. This variant is sold only in the United States and Canada because of the LTE bands it supports; the n42ap is sold in other countries, as well as the United States and Canada.
There are actually two versions of this model; when T-Mobile USA began to carry the iPhone 5, Apple made a tweak to this model to support HSPA+ on AWS bands.[1] A carrier update enabled LTE over AWS for all of these iPhones, but using HSPA+ over AWS requires a new unit. Apple provides instructions to check if an iPhone 5 can use HSPA+ on AWS.
It uses the Apple A6 SoC.
GPS
Qualcomm RTR8600 - GSM / CDMA / W-CDMA / LTE RxD Transceiver + GPS
Wi-Fi
Broadcom BCM4334 (Murata 339S0171) - Single-Chip Dual-Band Combo Device supporting 2.4GHz and 5GHz 802.11a/b/g/n
Specifications
Processor: Apple A6 clocked at 1.2 GHz
Color: Black and Slate, White and Silver
Size: 123.8 mm (4.87 in) (h), 58.6 mm (2.31 in) (w), 7.6 mm (0.30 in) (d)
Weight: 112 g (3.95 oz)
Battery: Standby up to 225 hours, talk time up to 8 hours on 3G
Rear camera: 8MP with Autofocus and manual focus (Tap to focus), supporting HD 1080p video recording @ 30FPS
Front camera: 1.2MP photos and video @ 720p 30 FPS, supporting FaceTime Video Calls
Siri: Voice Control Feature
Wi-Fi: Supports 2.4GHz and 5GHz 802.11a/b/g/n
RAM: 1GB LPDDR2-1066 RAM
Lightning Connector
See Also