iPad 2
From The iPhone Wiki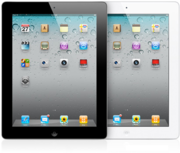 Summary
The iPad 2 was announced on March 2, 2011. It was initially released on March 11 in the United States, and March 25 elsewhere. The major different from the iPad (1st generation) is rear and front-facing camera.
Variants
There are four variants:
Application processor
First three variants of the iPad 2 make use of the Apple A5.
The last one makes use of the Apple A5 Rev A.
Baseband (3G versions)
The GSM model uses the X-Gold 618 baseband chip, same as in the iPhone 4 GSM model.
The CDMA model uses Qualcomm's Gobi chipset, like the iPhone 4 CDMA model.
Wireless
The iPad 2 uses the BCM4329 for Bluetooth and Wi-Fi communication.
Specifications
Display: 9.7" 1024x768 LED-backlit IPS display at 132 ppi
Size: 9.5 inches (241.2 mm) (height) x 7.31 inches (185.7 mm) (width) x 0.34 inch (8.8 mm) (depth)
Color: Black or White
Battery: Up to 10 hours of Internet use, one month of standby
Weight: 1.33 pounds (601 g) Wi-Fi model; 1.35 pounds (613 g) GSM model; 1.34 pounds (607 g) CDMA model
3G: UMTS/HSDPA/HSUPA (850, 900, 1900, 2100 MHz); GSM/EDGE (850, 900, 1800, 1900 MHz) GSM model; CDMA EV-DO Rev. A (800, 1900 MHz) CDMA model
RAM: 512 MB
Rear camera: 0.7 MP photos and 720p videos @ 30 FPS
Front camera: VGA photos and 480p videos @ 30 FPS, FaceTime supported
SIM Card: Micro-SIM (3G models)
Connector: 30-pin
Jailbreak
As of July 6, 2011, all variants of the iPad 2 running iOS 4.3.3 have been successfully jailbroken by comex, using JailbreakMe 3.0 "Saffron" which is a userland jailbreak. Apple released iOS 4.3.4 to address the exploited vulnerabilities 10 days after Saffron's public debut.
As of January 20, 2012, all variants of the iPad 2 running iOS 5.0.1 have been successfully jailbroken, using Absinthe which is a userland jailbreak using a modified version of the Corona exploit used in other iOS 5 jailbreaks. On May 25, 2012, all models except for the iPad 2 Wi-Fi (R2) model are jailbreakable on iOS 5.1.1 with Absinthe 2.0, based on Rocky Racoon and the original Absinthe's exploits. Absinthe 2.0.4 was released which is the latest version and supports the iPad 2 Wi-Fi (R2).